There are about half a dozen people in my life who have for the last few months been trying to get me to read The Hunger Games. I was even given a deadline: I had to read the first book before the release of the movie.
But I have taken a passive resistance to this book, making no effort to get my hands on a copy. Friends and family have offered me theirs, but it was always "after so-and-so is done with it". Well, I came home yesterday and there was a package on my door from Amazon.com. I didn't order it myself, I swear. It's just that you can never underestimate the resolve of my friends.
Don't make fun!
So I'm nearly 200 pages in and I must admit that I'm enjoying the read. It's juvenile, even more so than Harry Potter, but it's a page turner and I'll certainly finish it and see the movie and all that bullshit.
I've been accused on more than one occasion of falling prey to celebrating mediocrity. It's probably true, my favorite band is Pearl Jam. But it's got me thinking, what if I get suckered into this series? What if I buy into the hype, read all the books at once, stand in line for the next one? It's happened before, it can happen again. It can happen at any moment. My history with this sort of thing runs deep.
When I was in high school my sister, older sister that is, became obsessed with Harry Potter. We often shared books and recommendations, but I flat out refused to take part in this. I was in high school, she had already graduated college, and this was Harry Potter ferchristsake. After months of pestering she made a deal with me: All I had to do was read the first few chapters of the first book and she'd never bother me about it again. I was all caught up in the series by the end of the month. Since thin I've waited in line at midnight releases, seen movies in iMax, and even argued about the strength of the Elderwand. Did I mention I'm available, ladies?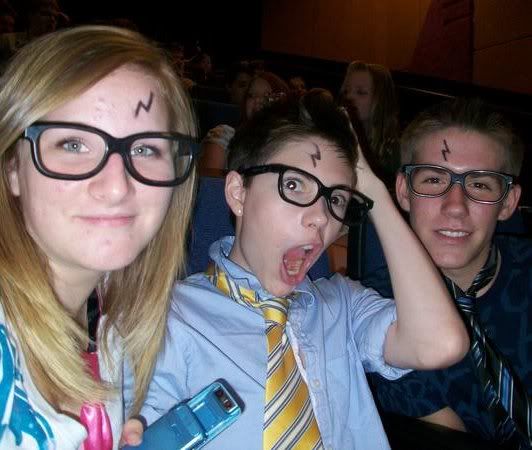 I swear I don't know these people.
Does it get worse? Maybe, but it certainly doesn't get better. A couple of years ago I bought an old Marantz stereo receiver and a turntable and became a vinyl nerd. I'm not ashamed of that, not by a long shot. But not every LP I have is worth bragging about. Sure, I have plenty of wax that can give me hipster cred...but then...there's this:
That's not my name!
Yeah, I own a Ting Tings record. And occasionally I listen to it. I know one other (male) friend that has this guilty pleasure (he's straight) and he's the only one in the world I'd ever talk to about this record. That's right, I've had actual conversations about the merits of the Ting Tings deeper cuts.

And then, there was the Law & Order obsession of the late aughts.

Angie Harmon can prosecute me any time she wants.
Let's get one thing clear. There's only one Law & Order. My step-sister tried to turn me on to SVU, but I can only watch a young girl get raped so many times before I want to throw up. The original is the only one that matters in this series. Fuck SVU, fuck Criminal Intent, and definitely fuck the new UK. I used to work overnights on Friday and Saturday nights. Which mean I was home just in time for the TNT weekend Law & Order marathons. My roommates knew very well not to bother me when I was watching my stories.

Most recently, it's been How I Met Your Mother. I'm addicted, it's ridiculous. I watched the entire series up to the current season on NetFlix, and now you can find me dutifully in front of a TV every Monday at 8 to find out what the fuck is going to happen with these terrible people. I wanted Ted to be with Robin. Then I realized it was stupid. Then I wanted Barney to be with Robin. Then I realized that whore doesn't deserve him. Slap bets, Cockamouse, Ducky Ties; this show has given me so much, including shame.
Ask me how I feel about Robin Schabowski. I dare you!
But now, I'm on The Hunger Games. I can already tell it doesn't hold a candle to any of my previous guilty obsessions. But I'm still reading, and so far I can't put it down. I might be fucked.